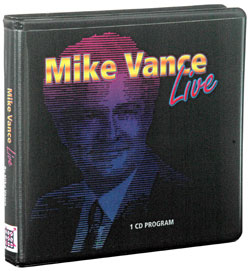 MIKE VANCE LIVE
Mike Vance presents thought provoking ideas and concepts in this live recorded program that cause people to reach higher, run faster and seek mastery in their performance. He brings the future into the present by making people aware of what is possible through the use of creative thought.
Mike energizes people to get out of the rut, to grow, to change and to achieve high levels of success. His dynamic style hits home hard with a wealth of information geared at how to get things done and accomplished in the home or business.
He personalizes his content with experiences as he speaks, which make them vibrant and alive.