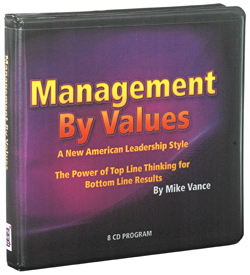 TOP LINE THINKING FOR BOTTOM LINE RESULTS
"DECISION MAKING IS EASY WHEN YOU KNOW WHAT YOUR VALUES ARE." - ROY DISNEY. This statement inspired Mike to study and develop the unique principle. This eight-CD program along with workbook, was recorded live during Mike's seminar on "Management by Values." It's considered by many to be the best of his thinking.
Mike Vance says, "The geater the correlation between people's values and the company's objectives, the higher the achievement." Topics include: CONDUCTING VALUES INVENTORY AMONG CO-WORKERS, "TOP LINE" vs. "BOTTOM LINE" THINKING, CONSTRUCTIVE VS. DESTRUCTIVE VALUES AND "THE DOLLAR OF A VALUE RATHER THAN THE VALUE OF A DOLLAR" PLUS MANY MORE.
This program goes beyond superficial approaches into deep water to stimulate your mind.
NEW! An MP3 file of this audio program is also available for digital downloading for use on digital readers and devices.