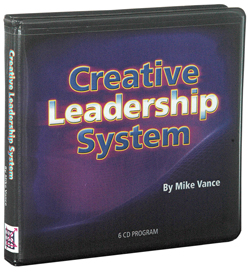 DON'T LEAD LIKE ALL THE REST - BE A CREATIVE LEADER
Have fun with Mike as he explains the changing tides and how to maintain high productivity with people through in-depth involvement.
He will review the basic concepts of the Creative Thinking System in this live-recorded, action-packed six-CD program, showing you how to turn meetings into Creative Thinking Sessions using the unique Briefing Board System.
Have fun with Mike's famous "People Reading Program." Try it with friends and family!
This exciting series is valuable for:
managers, supervisors, foremen, project leaders, executives, parents and anyone who leads others!
NEW! An MP3 file of this audio program is also available for digital downloading for use on digital readers and devices.